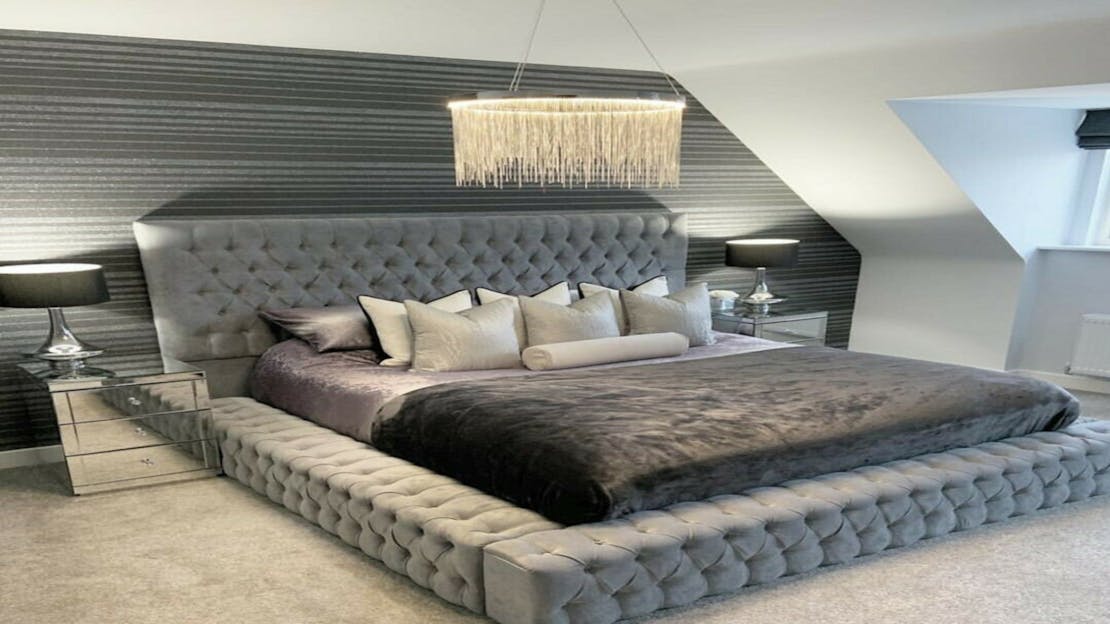 Profile on Rapyal Sleep Ghost Bedstead
If you're currently looking for your next bed, we don't need to tell you what an exhausting process shopping for it can be (excuse the pun). Not only are you investing your hard-earned money, you're also investing in your future sleep. And you need to make the right choice to ensure that both your decision and your sleep is sound.
Our Master Bed Technicians are always on hand to help with expert information and advice as you choose your new luxury bed, and today we offer the lowdown on our popular Rapyal Sleep Ghost Bedstead. This profile aims to provide you with all the information you need to know about our plush, luxurious bed which, coupled with one of our quality premium mattresses, is sure to leave you sleeping sweetly.
Rapyal Sleep Ghost Bedstead | The lowdown
Designed by Rapyal Sleep, the Ghost Bedstead enjoys both a quality build and a beautifully stylish finish, giving every bedroom that ultimate wow factor.
Our Ghost Bedstead is available as a double bed, king size bed and super king size bed -- so whatever size your room and however big you want to go, we're primed to grant your wish. Made with premium, durable materials, the Rapyal Sleep Ghost Bedstead is built to last, with a steel frame for durability and longevity. The plush fabric of the frame and headboard offers luxury, comfort and both the look and feel of true quality that is distinct to a premium bed purchase.
Some of our favourite features of the Rapyal Sleep Ghost Bedstead
Choice of beautiful colours to match your taste
Legs with handy holders for tidily tucking in a mobile phone or tablet
Choice of finish in button or diamante studs
Free delivery to mainland UK
Optional Ottoman gas lift
The Rapyal Sleep Ghost Bedstead is an ottoman, meaning the mattress and top of the bed lifts up to reveal generous storage within the base. We offer an enhanced function with your purchase of a gas lift ottoman. This is optional, but a gas lift involves placing discreet sealed cylinders that enable the top of the bed and mattress to easily and safely lift so you can access the ottoman storage area without injuring your back or disturbing the position of your mattress.
What colours are available for the Rapyal Sleep Ghost Bedstead?
Part of the appeal of the Rapyal Sleep Ghost Bedstead is the stylish range of colours it comes in, truly making it the bed without compromise. SImply choose your preferred colour to match your bedroom decor, or even plan your room around the shade that speaks to you the most. You can opt for:
Black plush
White Plush
Steel Plush
Charcoal Plush
Silver Plush
Silver Crushed Velvet
Turmeric Plush
Truffle Crushed Velvet
Dimensions of the Ghost Bedstead
Headboard: 50" -- all bed sizes
Double 4FT6: Width 68", Length 90" (For Ottoman Gas lift add 2 more inches)
King Size 5FT: Width 74", Length 92" (For Ottoman Gas lift add 3 more inches)
Super King Size 6FT: Width 88", Length 92" (For Ottoman Gas lift add 3 more inches)
Choosing a mattress for your Ghost Bedstead
You can choose to purchase your mattress alongside your Rapyal Sleep Ghost Bedstead, with options including a 10" memory foam mattress, a 1000 pocket sprung mattress and an ortho sprung mattress. Our Master Bed Technicians are also on hand to help advise you on mattress firmness and to discuss the type of mattress that will best suit your circumstances. You can call 01274850710 or get in touch online or at our showroom.
We ship our Rapyal Sleep Ghost Bedstead across the UK, offering free delivery. You can view this luxury bed in its full range of colours over on the product page, and just let us know if you have any questions before placing your order.

You can sign up below to our mailing list, and find us over on Facebook.

Hot Deals
Browse our fantastic range of heavily discounted beds
This bed frame is a timeless handcrafted bed with upholstered headboard that has clean pleats giving it an added design element. The headboard features a soft plush velvet fabric which is elegant yet contemporary all at the same time. The bed will be a great addition to any bedroom with its quality and luxurious finish.

This Mattress has a combination of memory foam and springs and a hand stitched border for long lasting comfort and support. The mattress features edge to edge support with 12.5 gauge spring. The mattress includes a layer of memory foam. It is an all year round mattress. All of our mattresses are tested and inspected to ensure a high-quality standard.
This beautiful stylish looking designer bed is upholstered in the finest quality velvet fabric, the bed will look amazing in any bedroom.