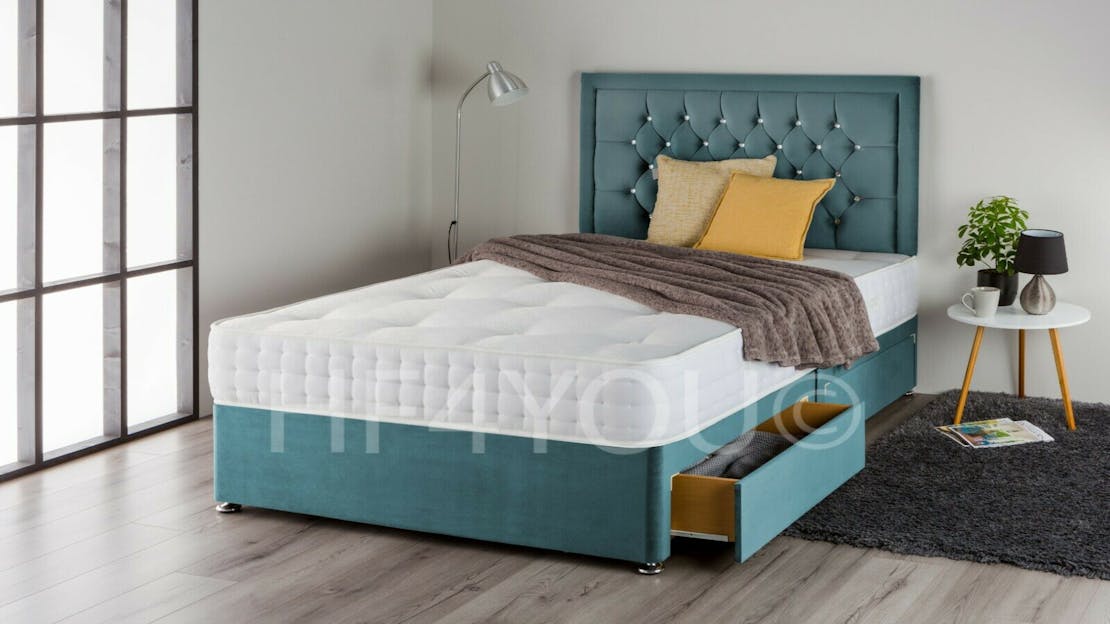 Interest free payment plan for your new bed and mattress
Buying a new mattress or bed -- or any stylish furniture for your home is exciting -- but we appreciate it can also feel like a big outlay. If you're moving house or your bed has broken, waiting to save for a new one or holding off until payday really isn't ideal. This is why we're delighted to offer 0% finance on all purchases from Rapyal Stores, with no minimum spend.
This means you can order your new bedroom furniture, mattress or other items today, without delay, and spread the cost with Klarna.
Our partnership with Klarna means our customers don't have to wait for their purchases, but they also don't have to pay any more than the original cost of the order. With Klarna, you can order your bed on finance and still enjoy next day delivery, subject to availability.
Ordering your bed or mattress and paying via Klarna means there are no fees, no interest to pay and no credit agreement.
Enjoy your new bed now and pay later -- after a good few nights of sleep!
When you make your order with Rapyal Stores, you can simply choose Klarna at the checkout and opt for one of two easy, 0% interest-free ways to pay for your bedroom furniture:
Pay in 30 days Klarna
This option lets you buy your chosen furniture and then make one payment in 30 days time.
Pay in 3 interest-free installments Klarna
When you choose this option with Klarna, you'll pay for your furniture in 3 equal interest-free installments, which are automatically charged every 30 days.
Furniture on finance -- your questions answered
If you've been thinking about a pay monthly type option for your bed or other furniture, we answer your questions about how shopping with Rapyal and paying through Klarna finance works.
What are the benefits of paying for furniture on finance?
Paying this way allows you to spread the cost of your new bed and mattress, without increasing the overall amount you pay. Because there is no interest charged on your purchase, you can buy now and pay later without incurring any interest on the price of the item.
Is there a minimum spend for buying my furniture on finance?
No, there is no minimum order amount for Klarna finance. Simply choose your bed, mattress or other furniture and opt to pay later and interest-free through Klarna.
If I use Klarna finance for my bedroom furniture, how long will delivery take?
When you shop with Rapyal Stores and opt to pay with Klarna, there is no difference in terms of delivery times. You'll still receive the same great service, with our beds and mattresses shipped the same or day for next day delivery wherever possible.
Will I be subject to a credit check if I want to pay on finance?
Klarna carries out a soft credit assessment, rather than a full credit check. This means the assessment will not affect your credit score or rating. Klarna is only available to people aged 18 or over.
You can read more about Klarna payments HERE, and for advice on finding the right bed and mattress for you, you can contact us online, call 01274850735 or visit our showroom.

Hot Deals
Browse our fantastic range of heavily discounted beds
This bed frame is a timeless handcrafted bed with upholstered headboard that has clean pleats giving it an added design element. The headboard features a soft plush velvet fabric which is elegant yet contemporary all at the same time. The bed will be a great addition to any bedroom with its quality and luxurious finish.

This Mattress has a combination of memory foam and springs and a hand stitched border for long lasting comfort and support. The mattress features edge to edge support with 12.5 gauge spring. The mattress includes a layer of memory foam. It is an all year round mattress. All of our mattresses are tested and inspected to ensure a high-quality standard.
This beautiful stylish looking designer bed is upholstered in the finest quality velvet fabric, the bed will look amazing in any bedroom.