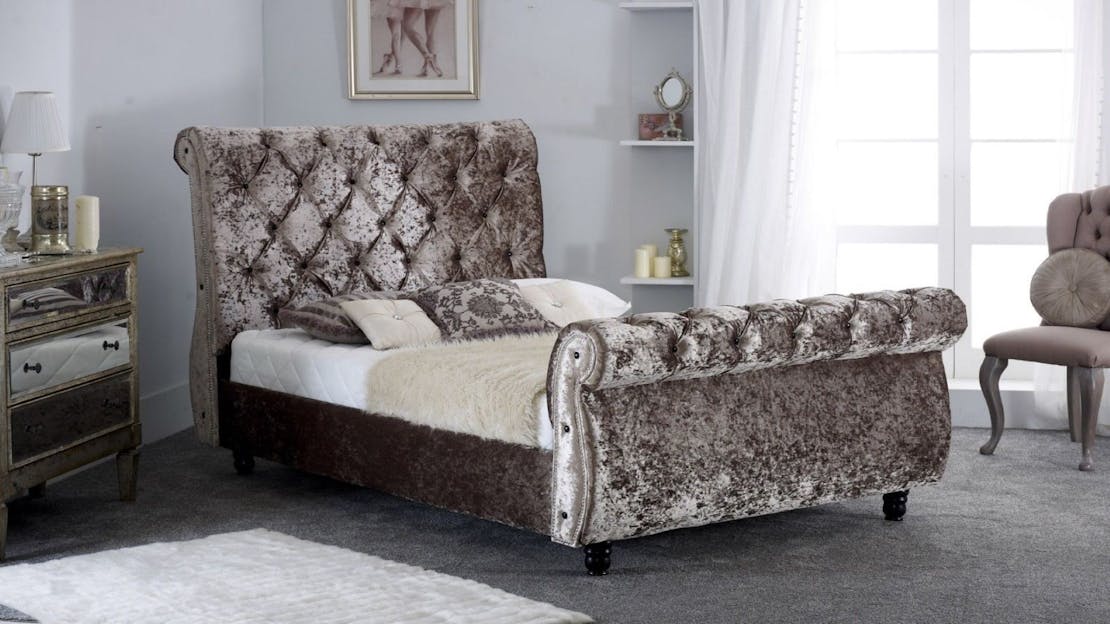 Grey beds | Spotlight on ottoman bed | sleigh bed and more
The beauty of opting for a grey bed is that it will never date, or lose its elegant look. Grey beds manage to give a bedroom both a classic and modern feel, being stylish and up-to-date without clashing with existing wallpaper or furniture.
Choosing the style of grey bed for you
In this guide, we put a spotlight on our range of high-quality grey beds, so you can choose between a bed in fabric, velvet or plush that's built as an ottoman, sleigh or divan -- ensuring your new grey bed fully meets your needs.
Our grey beds are all available in sizes:
Single (3ft)
Large single (3ft 6")
Small double (4ft)
Double (4ft 6")
King Size (5 ft)
Super King (6 ft)
We offer FREE next day delivery to mainland UK on most orders, alongside purchasing and care advice from our Bed Master Technicians, who you can consult with about the type of bed and mattress to best suit your lifestyle and other factors.
With a grey Ottoman bed you can combine the look and colour you want for your bedroom with a generous storage solution. Simply lift from beneath your mattress to reveal ample storage in the base for you to keep bedding, clothes, towels or occasional items. You can stash whatever you need to keep your bedroom tidy and clutter-free whilst still having all of your essential items close at hand.
We also offer Ottoman TV beds, including our Arabella Ottoman TV Bed in Light Grey. The Arabella can house a 42" TV at its foot, which cleverly rises when in use and slides back down when not. There's also further storage at the side to position a DVD player or games console to use in conjunction with your television. You'll then find further storage in the platform base to keep other essential items, as above.
Sleigh beds make a stunning style statement in any bedroom, and by opting for a grey sleigh, you're guaranteed to transform your space. Sleigh beds are known for their statement curving headboard and footboard, giving your bed a unique and bold appearance.
Divan beds are popular for their sturdy build and appealing fabric finish. Our divan beds also come with the option of drawers in the base, so you can access your storage space with ease. Coupled with a choice of headboards, such as grey fabric or beautiful button detail, your grey divan bed is ready and set to be the new stunning centrepiece of your bedroom.
Choose your favourite fabric for your grey bed
We have a range of grey beds available in:
Crushed Velvet
Linen
Soft Velvet
Damask fabric
Customise your grey bed
And don't forget, our Master Bed Technicians are on hand with our bespoke service that is completely free of charge. You can choose your colour, fabric, bed type and mattress type, with a consultation to ensure all of your needs are met. This results in a bespoke, luxury bed without compromise, delivered to your door free of charge.
You can contact us online, visit our showroom or call us on 01274850735 and our friendly team will be happy to assist you.