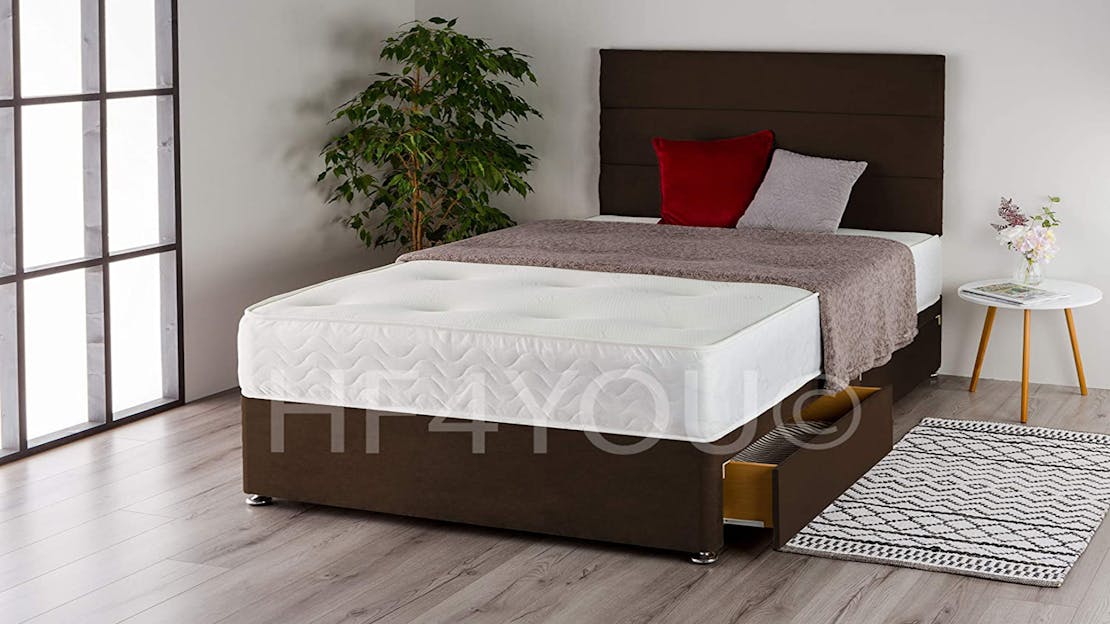 Buying bespoke | Luxury beds customised at no extra cost
Your bedroom is your haven and a space you should enjoy spending time in. As the room you sleep in every night and get ready in every morning, a bedroom deserves to be beautiful and should meet your needs both in terms of style and comfort.
Making your bedroom your own is an important part of what makes it your ideal space, and a place you can retreat from the world each night and wake up refreshed the next morning. Opting for a bespoke bed means you can reflect your own unique style on your bedroom, choosing a design, colour and fabric that appeals to you and is different from the bland, standard bed you can buy anywhere.
Buying a bespoke luxury bed
If you're considering a bed that's customised to you, the first thing is to think about the colours and materials you would like. The next step is to speak with a Bed Master Technician by phone, email or in person, who can discuss your mattress needs to ensure your bed is as comfortable as it is stylish.
At Rapyal Stores, we offer bespoke beds at no additional charge to our standard bed purchase price -- because we want our customers to be completely happy with their chosen bed, in a fabric and colour that is right for their room.
As bed specialists with over 20 years' experience, our quality beds are handmade and finished to order. We can even offer next day delivery in many cases, so you don't have to wait weeks for your dream bed!
How to order your custom made bed
You can order your custom made bed from anywhere in mainland UK and we'll deliver it to your home, for free.
Firstly, ensure you have measured your room and know whether your bespoke bed will be:
Single (3ft)
Large single (3ft 6")
Small double (4ft)
Double (4ft 6")
King Size (5 ft)
Super King (6 ft)
You can then consult with one of our Bed Master Technicians, who will ask some questions to work out the best mattress that is bespoke to you and your needs. For example, the best mattress to opt for if you have back problems, or the best mattress to suit your or a partner's weight.
Bespoke bed colours
We offer a range of colours to match your room decor, which you can view here as well as reading through the list below:
Black bed
Light Grey bed
Grey bed
Charcoal Grey bed
Silver bed
White bed
Ivory bed
Bright Red bed
Royal Blue bed
Teal Blue bed
China Blue bed
Ice Blue bed
Parliament Blue bed
Sovereign (gold) bed
Platinum bed
Turmeric (yellow) bed
Beige bed
Arturo Brown bed
Chocolate Brown bed
Light Purple bed
Plum bed
Mink bed
Light Pink bed
Pink bed
Choosing the material for your bespoke bed
With Rapyal Stores, you can opt for your bespoke bed to be finished with suede, velvet, plush, standard linen or crushed velvet. The choice is entirely yours to make!
How much do customised beds cost?
At Rapyal Stores, we don't charge a premium for customising your bed and mattress and making it bespoke to your needs. It's all part of our specialist and free service.
You'll only pay the listing price on our website for your chosen bed, in your selected material and colour. The price may vary depending on your chosen mattress, but we will always go through full costs and have a range of quality mattresses to suit different budgets for you to choose from.
Our goal is delivering a bed and mattress that will meet your needs for the long-term, help style your home and be a pleasure to both look at and lie on. It's all part of our standard sweet dreams service!
To arrange a free, no obligation consultation with one of our Bed Master Technicians, please contact us online, call 01274850735 or visit our showroom.
Hot Deals
Browse our fantastic range of heavily discounted beds
This bed frame is a timeless handcrafted bed with upholstered headboard that has clean pleats giving it an added design element. The headboard features a soft plush velvet fabric which is elegant yet contemporary all at the same time. The bed will be a great addition to any bedroom with its quality and luxurious finish.

This Mattress has a combination of memory foam and springs and a hand stitched border for long lasting comfort and support. The mattress features edge to edge support with 12.5 gauge spring. The mattress includes a layer of memory foam. It is an all year round mattress. All of our mattresses are tested and inspected to ensure a high-quality standard.
This beautiful stylish looking designer bed is upholstered in the finest quality velvet fabric, the bed will look amazing in any bedroom.