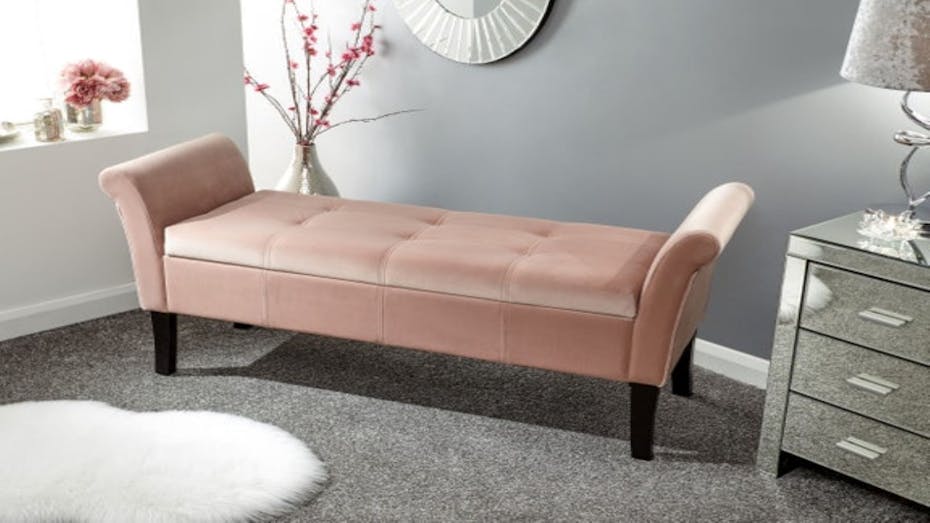 5 practical tips to creating your dream bedroom
If you're looking for bedroom style inspiration, there are pages online bursting with images of beautiful bedrooms. Although these bedroom design ideas can be interesting to look at, they can sometimes serve mainly to highlight to us what our own sleep space is (sadly) lacking, especially as we're unlikely to live in the stunning seaside retreats or swish penthouses we see online!
What most of us actually need is practical bedroom style tips that we can apply directly to our homes. Below you'll find that elusive combo of inspiration and practical advice for achieving your dream bedroom. In just 5 steps!
1. Colour match
Many of us make do with a version of the original bedroom style when we moved in. This is understandable as you can't tackle every part of your home instantaneously, and when furniture has moved with you, it's unlikely to result in a seamless finish when bundled together with someone else's decor choices.

When you're ready for that overhaul though, decide on your chosen main colour theme and work your bedroom decor around that. This doesn't mean if you have sage green walls you have to run this through your bedding and accessories though. Rather, if green is your primary colour, accentuate the room with shades of this for an effective finish. Layering different shades of the same colour lets a complementary theme run through your bedroom, while still allowing you to make a statement and be free from blandness. This could be a teal throw on your bed, mint green picture frames on the wall and plants dotted about the space. You can even choose your new bed in your themed colour, working the accessories around your chosen core shade. The result? A striking effect showing flawless style.

2. Upgrade your furniture
As we've already said, it's easy to find ourselves with mismatched furniture, cobbled together over many years and many bedrooms. However, upgrading your furniture and starting from scratch is one of the most effective ways to transform your bedroom. And you might find it less expensive than you think.
Sourcing items individually is unlikely to work, unless you have limitless time and an endless budget to find wardrobes and bedside tables that can be styled together. Buying bedroom furniture in sets, or separately but from the same range is the simplest way to achieve a finish that's seamless, without an odd item that stands out and causes an eyesore!

3. Bedroom layout
The perfect time to reconsider your bedroom layout is before you buy a new bed or furniture. It may be that your new wardrobes are less bulky and will free up additional floor space, allowing you to move your bed to a new position, for example. Or, you may be looking to increase the size of your bed from a double to a king, and tweaking the layout will still allow you ample floor space.
When you replan your layout, think outside of the box. For example, you don't have to position your bed in the centre of the room, if you think being next to a window will open up the space better. It can be helpful to sketch out different configurations for your furniture and bed, and anything else you want to incorporate: from shelves to mirrors. Remember to accurately measure so you don't end up with a space that's too cramped for your new items.
4. Choose a statement bed
The primary purpose of a bedroom is for rest and sleep, so it makes sense to prioritise your bed in any bedroom makeover. This can be twofold, considering both style and comfort. It's important not to overlook your mattress choice, ensuring you choose based on health, age and lifestyle factors for maximum comfort. And then you can think about the style you want for your bed: from 50s Hollywood glamour through to clean, modern lines for a contemporary look. Whatever your preference, you can enjoy a sumptuous new look at the finish. Once you decide on the style of bed you want, this can be carried through the rest of the room, accessorised with furniture, cushions, frames and vases.
5. Think beyond paint.
If you don't relish the thought of decorating, you're not alone. However, if you really want to transform your bedroom, painting and decorating will do a huge amount to freshen and brighten up your space. What's more, if you are going to the time, trouble and expense of a new bed, furniture and accessories, decorating will ensure you maximise the results, rather than putting your shiny new buys in a room with dull, grubby walls.
Naturally, there are a lot of decorating options. You can keep things simple with an all-over paint colour, wallpaper a feature wall and paint the rest, or do a contrast of paint colours to break up the room. Don't forget to think about curtains, bedding and cushions too -- the finishing touches that, together with your other smart steps, will transform your space into your ideal bedroom. Sweet dreams!

You can sign up to our email list for more home inspiration and insights, and if you'd like help choosing a bed, mattress or furniture, give our friendly team a call on 01274850735 or get in touch online.

Inspirational in Bedroom
Choice of Colours

Popular
Stay supported as you sleep with the Sprung Memory Divan Bed Set. With 13.5g springs and a layer of sumptuous memory foam, the mattress offers the ultimate in comfort and luxury.

Note: If you would like drawers on one side please state what side you would like the drawers in the Notes section when placing an order. From the footboard looking at the bed - left side or right side.