Rapyal Sleep Fabric Divan Bed with 2 Drawers Same Side + 10" Memory Mattress matching 20" Headboard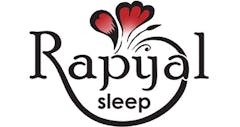 Designed to enhance any bedroom, this divan set includes 20 inch Headboard. A 10 inch Deluxe Memory Collection Mattress. This divan bed is made in stunning plush suede upholstery to create a contemporary aesthetic and adhere to all colour schemes. It is highly glamorous and has a grand headboard design with beautiful details and an elegant finish. This is from our Amazons best seller list which is available to buy from here directly with better delivery lead times. Available next day.
Fast Delivery
Shipping
The shipping options may vary depending on the delivery address, what time you make your purchase and item availability.

If next day delivery is available, you must place your order between Monday and Thursday before 13:00pm in order to receive your items the next day.
Please note that some deliveries will fall onto the day after which will be unforeseen and beyond our control.
If you live in a surcharge postcode area then we cannot offer a next working day service. It normally takes 3 – 5 working days.
Delivery
We deliver free to mainland UK unless otherwise stated.
We can upgrade the delivery to an AM for an extra charge of £35 or for Saturday delivery for an extra £50
View our detailed delivery policy here.
Easy Returns
Buy with peace of mind, read our easy returns policy here.
Easy Returns
Returning an Unwanted Item
We understand that from time to time you may wish to return a product to us.
Perhaps it doesn't fit your requirements as expected, you've had a change of plans, or you've simply changed your mind.
No problem.
We aim to make our returns process as easy as possible for our customers. All you need to do is:
Make sure the product is unused, unopened and in the original packaging, with all seals, shrink-wrap, or labels still attached, and in a condition allowing us to sell the item on as new.
Return the product, and proof of purchase, by recorded delivery within 14 days following the date of dispatch of the product to you. Remember to enclose your returns number, name, address, phone number or email, and your reason for returning the goods.
Save 20% on these clearance mattresses
The Rapyal Sleep Eupena 1000 Pocket Airflow Mattress reacts seamlessly to your posture and sleeping position, providing sumptuous comfort thanks to 1000 pocket springs and a 10mm high density memory foam layer.
The Rapyal Sleep Back Care Deluxe 12.5g Orthopaedic Mattress features an 11'' hand stitched border, along with an orthopaedic design. This helps to maintain a healthy back posture during sleep, alleviating back problems.
The Rapyal Sleep Flora Indulgence Double Layer 2200 Pocket Sprung Mattress is focused on delivering the ultimate in comfort and luxury. Each mattress features 2200 individual pocketed springs which have been sewn into hard wearing pockets over 2 layers to fully support your body's shape and movement.
Description
This Mattress has a combination of memory foam and springs and a hand stitched border for long lasting comfort and support. The mattress features edge to edge support with 12.5 gauge spring. The springs act together with the memory foam to relieve tension from the body to provide the best nights sleep. All of our mattresses are tested and inspected to ensure a high-quality standard.
Ideal for sink-in snoozers, the memory foam mattress gently hugs you to sleep, moulding with the contours of your body for soothing pressure relief. Sink into a blissful night's sleep with the cocooning nature of memory foam which is responsive and pressure relieving, back aches and pains will soothe away. Topped with a quilted finish, perfect for sleepers who prefer a smoother sleep surface and medium to soft feel.

Specification
Bed Type

Size

(2"6) Small Single

,

(3"0) Single

,

(3"6) Large Single

,

(4"0) Small Double

,

(4"6) Double

,

(5"0) King

,

(6"0) Super King

,

Colour

Storage

Headboard

Finish

Mattress

10 Inch Deluxe Memory Collection Matress
Design & Manufacture
| | |
| --- | --- |
| Designed In | |
| Manufactured In | |
Exclusive to Rapyal Stores

Key Features

Castors included

,

Suitable for all mattress types

,

Fabric base

,

Detailed design

,

A sleek, elegant design

,

Available in a wide range of colours

,

25CM (9-10" approx) mattress depth

,

Optional padded headboard

,

12.5g

,
Mattress
| | |
| --- | --- |
| Mattress Depth | |
| Firmness | |
| Spring Type | |
| | |
| --- | --- |
| Warranty | 1 Year Manufacturers Warranty |